We are now an Authorized Dealer
ITR Track Chains

Call (828) 649-7190 for a quote.
ITR undercarriage components work together with our chains to provide excellent durability and long service life in the most demanding applications. ITR engineered chain designs contribute to maximize sealability and provide excellent field performance.

Sealed & Lubricated Chains for Crawler Tractors & Loaders
Sealed and lubricated joints keep abrasives out of the pin and bushing area minimizing internal wear and reducing chain stretch. The result is extended undercarriage life and lower operating costs.
Sealed & Greased Excavator Chains
Sealed & Greased Excavator chains decrease internal friction and reduce chain noise. ITR Tracks are engineered to perform well in very tough working conditions. Track Chains incorporate Boron Steel Forgings, Polyurethane "dish" seals, Extreme Pressure Synthetic Grease and "T" style master pins for ease of installation, all of which contribute to strength and long service life.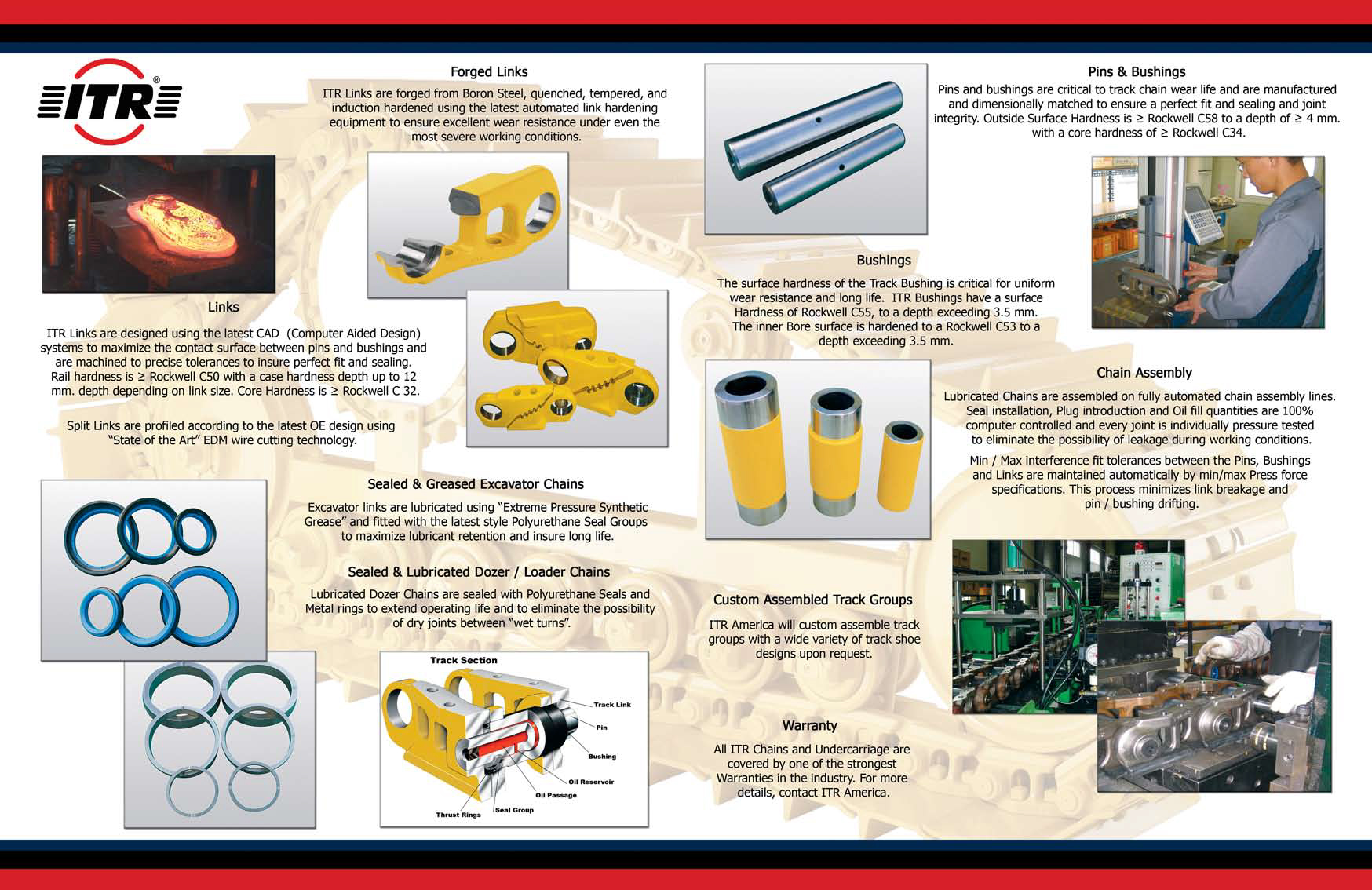 Track Chain Components
Individual components work together to provide assemblies with Excellent Durability and Long Service Life in tough working environments.
Pins & Bushings
ITR Pins & Bushings are designed, manufactured, and dimensionally matched to link bores providing excellent pin retention and Track Joint Stability. Better joint reliability helps eliminate seal / joint problems and results in extended wear and performance.
ITR Pins resist bending and breakage by using selected materials and special heat treating processes with differential spray quenching. ITR Bushings have high surface and core hardness that provides excellent strength and wear characteristics by utilizing Through Hardening or Through Hardening plus Induction Hardening processes depending on application.
Links
Forged Boron Steel links provide greater strength, stability and wear resistance. Sophisticated heat-treating processes give ITR chain links excellent surface hardness, deep hardening depth and strong core hardness for durability and strength.
High strength materials in conjunction with heavy cross sections are designed to maximize pin to link contact area…Large pin to rail contact helps eliminate "Pin Walking" and premature failure in tough working environments. ITR link designs result in a link profiles that resist link twisting and deformation.
ITR track chains use the preferred Split Master Link designs, produced using state of the art machining technology for proper mating of the split link halves.
Sealing
To keep lubricants in and abrasives out, ITR chain designs utilize specially engineered Rigid Polyurethane Seal designs. These durable long lasting seals combine high wear resistance and lubricant protection to extend pin and bushing life.
Sealed & Lubricated joints on lubricated tracks are designed for the life of the chain. Advanced computer controlled assembly insures proper seal installation and guarantee each joint is filled with the correct amount of lubricant. Each lubricated joint is pressure tested during the manufacturing process. Wet joint Integrity is covered by ITR's Wet Turn Assurance Warranty.